design & engineering
_____
At Alutec, we understand the importance of early technical input in design development. With our industry knowledge and experience we specialize in providing comprehensive design-assist and design-build services from the onset. This allows us to consistently deliver feasible design solutions that meet our client's expectations. Our Engineering division has experienced design professionals that consists of technical lead designers, structural engineers, façade and design engineers. Whether its development of conceptual design, detailed engineering or fabrication drawings, we specialize in providing turn-key cost effective and innovative design solutions that cater to each individual project.
processing
_____
Located in Doha, Qatar, Alutec production facilities spans multiple factories and has over 30,000 square meters of production facilities equipped with cutting edge aluminum, glass and metal processing machines capable of processing 15000 tonnes of Aluminium, 1,000,000 sq.m of glass and 15000 tonnes of steel annually.
glass processing
_____
Clear float glass is transparent and colorless, offering high visible light transmittance and optical clarity. It offers little resistance to solar heat gain and glare in building. Enhancing performance and aesthetics characteristics of float glass requires additional processing to meet project specifications and design intent. Alutec's in-house processing facilities have the capacity to deliver a wide range of glass processing solutions to our customers.
tempering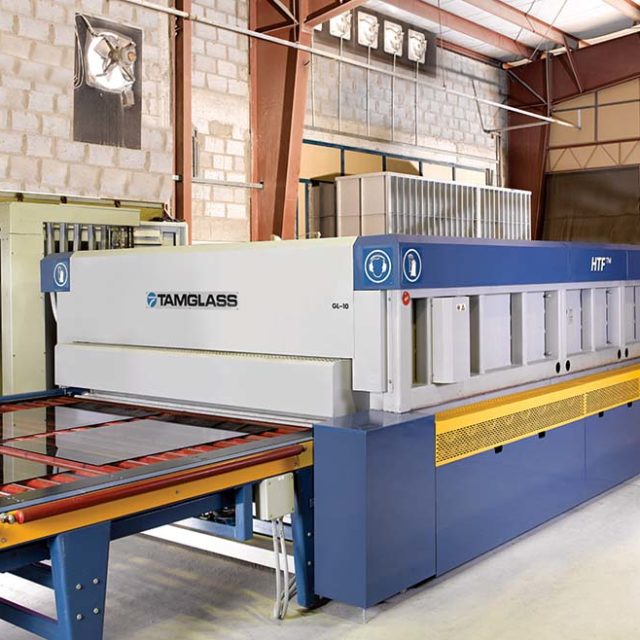 Process of heating glass and rapidly cooling using jets of air to make it more resistant to thermal and mechanical stresses giving rise to its fragmentation characteristics and utility as safety glass.
lamination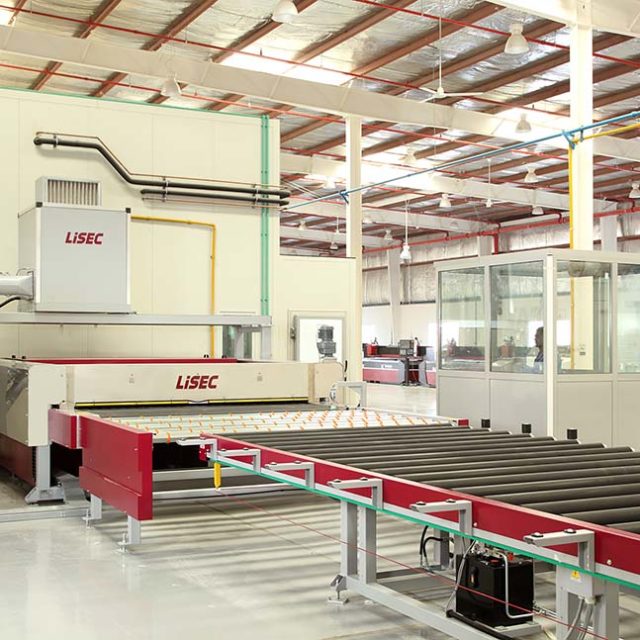 Process of sandwiching at least two sheets of glass by a full surface plastic interlayer such as PVB to enhance properties of the glass unit such as insulation, safety.
double glazing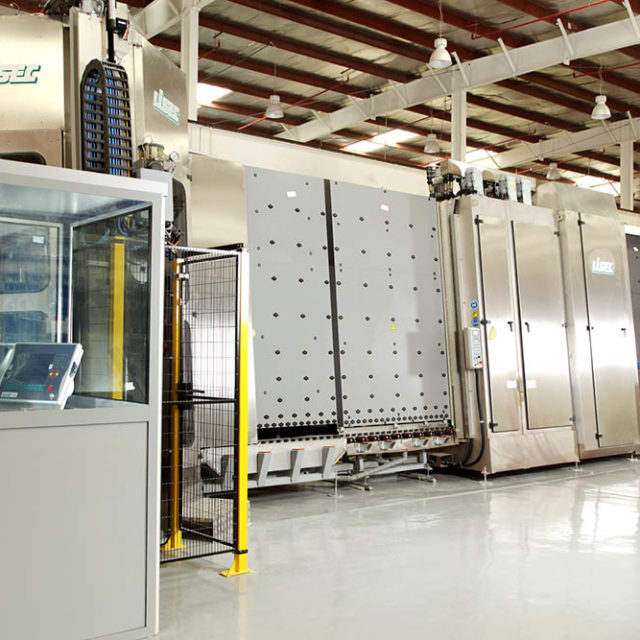 Process of factory sealing multiple sheets of glass that are separated by an Aluminium or steel spacer and filled with air or gas to enhance thermal insulation properties of the unit.
screen printing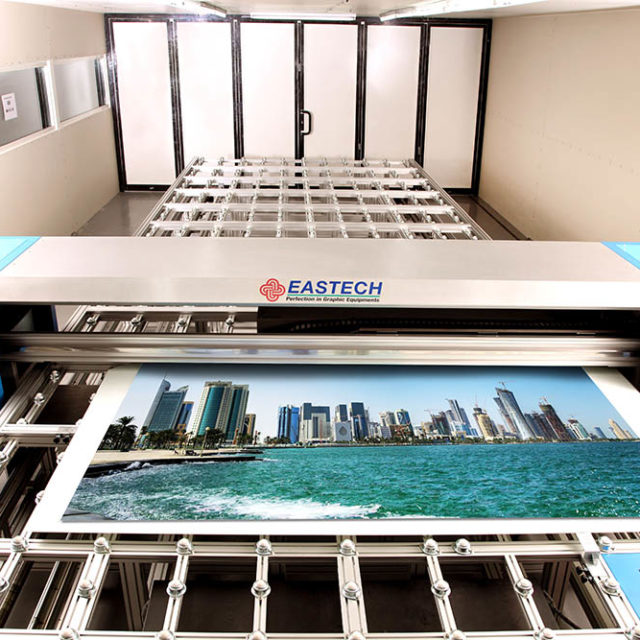 Process of creating bespoke designs on the surface of glass by imprinting ceramic frit paint on the glass and fusing it during the toughening or heat strengthening process.
sand blasting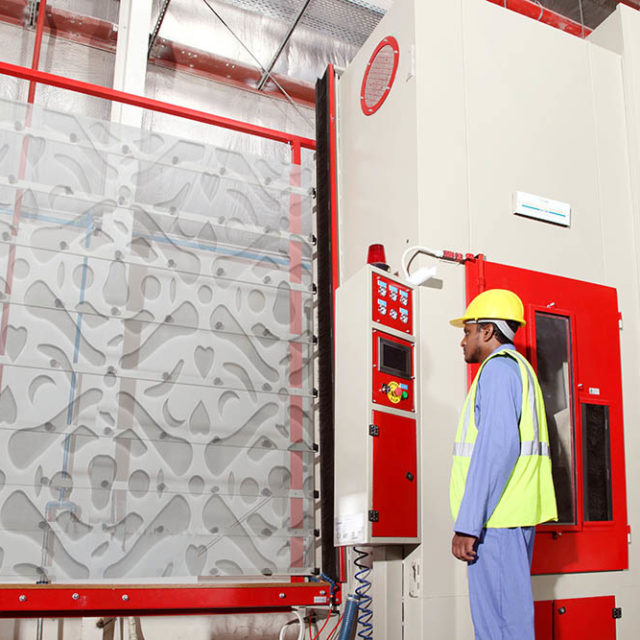 Process of creating decorative glass panels by abrasive etching of glass at high pressure to create uniform or bespoke designs.
heat soaking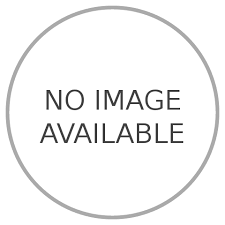 Process of removing nickel sulphide impurities by placing the tempered glass inside a chamber and raising the temperature to approximately 290ºC to accelerate nickel sulfide breakdown and reducing the risk of potential breakage.
metal processing
_____
Aluminium, light metals and steel has rapidly become the material of choice for exterior and interior use due to its durability, design versatility and aesthetic possibilities. Metals are typically available in pre-formed shapes / extrusions, standard sizes and in mill finish (silverish) / natural color. To be both functional and decorative, metals must undergo further processing and surface treatments. ALUTECs production facilities equipped with cutting edge processing machines enables us to maximize form and function of metal products.
machining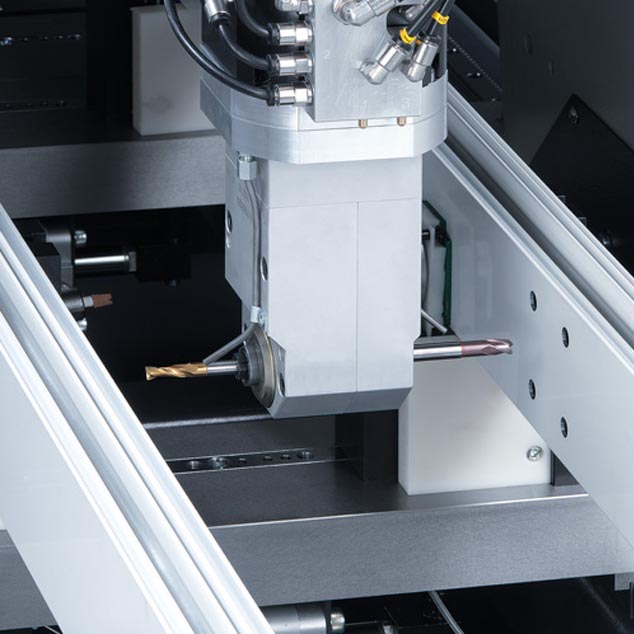 Machining or milling plays a major part in most Aluminium and metal component work. Machining facilities like 4-axis profile machining center are designed for economical and efficient machining of Aluminium and thin-walled steel profiles. All operations, such as routing, drilling and tapping are performed while the profile bar is stationary to protect the profile surfaces for economical and efficient machining of Aluminium and thin-walled steel profiles.
water-jet cutting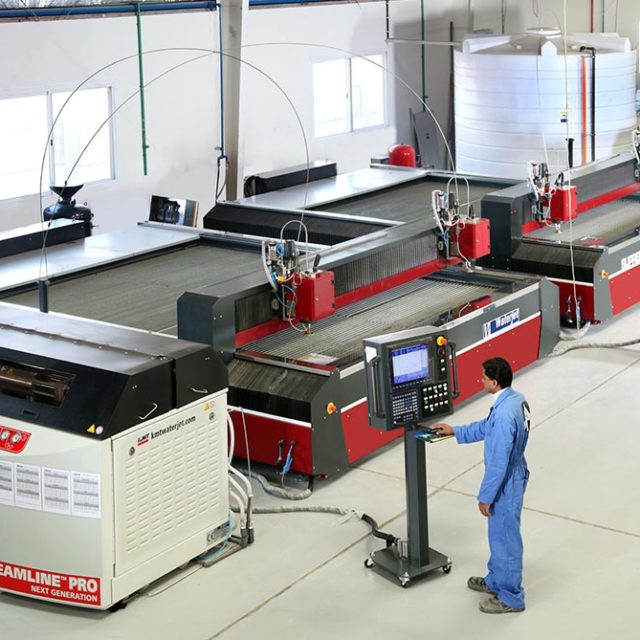 Water Jet cutting uses an ultra-high pressure stream of water to carry an abrasive grit. The abrasive does the cutting through a mechanical sawing action, leaving a smooth, precision cut surface. Water jet is a very precise cutting process allowing fine contours to be cut, and producing high tolerance parts in Aluminum and metals.
buffing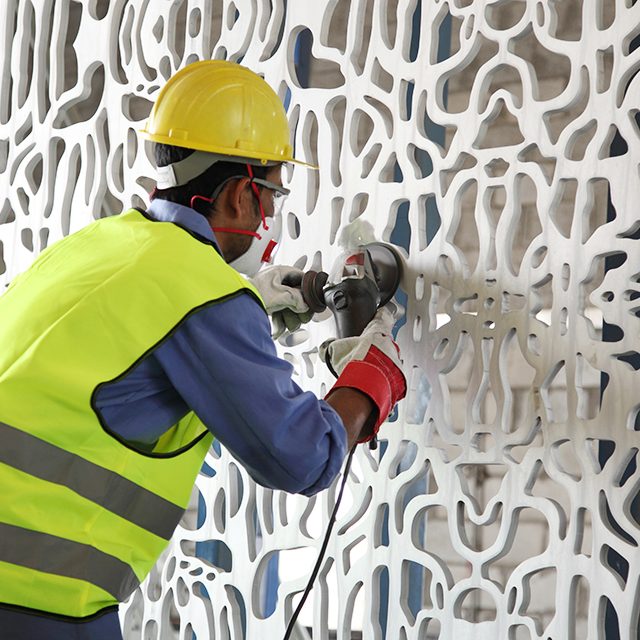 Process of surface treatment preparation for Aluminium and metal products. The objective of buffing process is to make a rough surface to a smooth one for better adherence to surface treatment. It is done by the skilled workforce by using grinder and special buffing machine tools.
cutting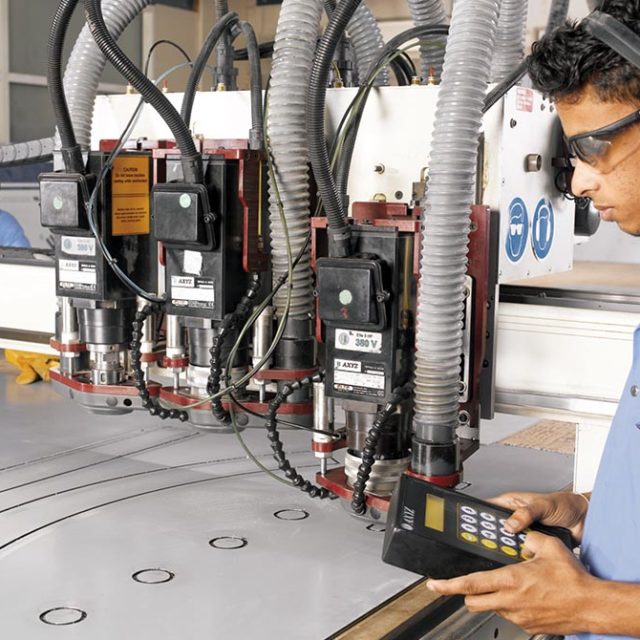 Cutting is the primary process in the aluminum and metal fabrication using cutting machines like Aluminium Profile Machining Centers (CNC), Computer Numerical Control (CNC) cladding machines, Semi-Automatic Circular Saw Machine (for tubes & steel profiles), gas cutting machine and shearing machine enables us to process a wide range of aluminum and metal products.
bending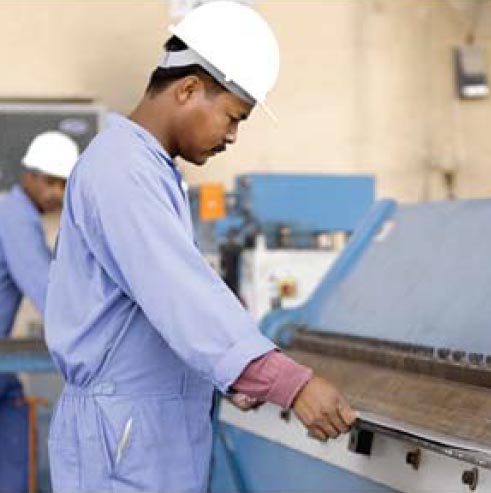 Process of forming the sheet metal into the required shape such as bended angles, channels, stainless steel flashings etc., by using 5 meter bending machine.
welding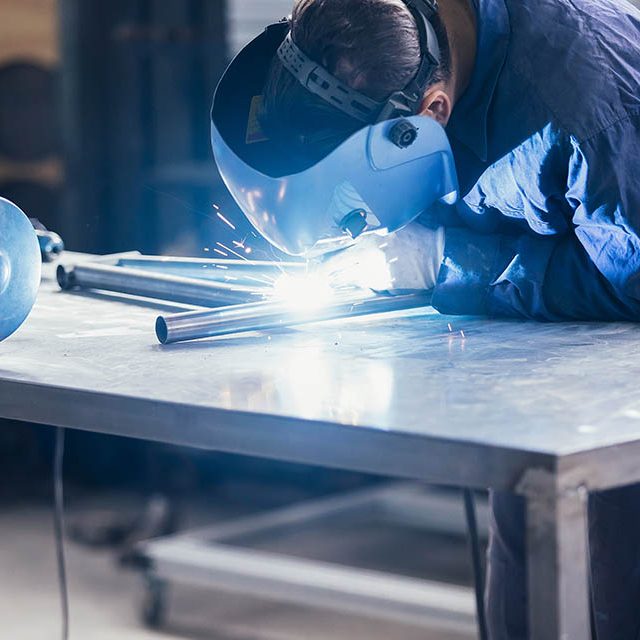 Process of permanent joining of two similar material to give the require shape and size with the help of SMAW (Shield Metal Arc Welding) machine, GTAW (Gas Tungsten Arc Welding) machine & GMAW (Gas Metal Arc Welding) machines.
coating
_____
Metals corrode when their environments are unsuitable. Virtually all metals used in construction or production are inherently unstable, and tendency to revert to other more stable forms by oxidizing or rusting. The most common form of corrosion protection is applying a surface layer or coating. Coating offers a cost effective and practical way to increase mechanical, electrochemical, and thermal performance of metals. It is important to apply the coating system correctly and ensure that it has the correct number of coats and degree of thickness. Through our in-depth knowledge on how materials and coatings react, we can assist and advise on choice of coating types and coating thickness to suit our clients specific project needs.
intumescent coating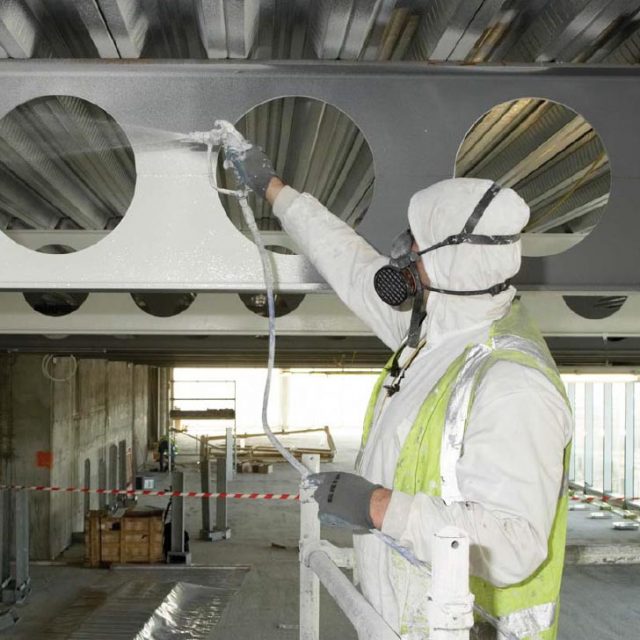 Intumescent coatings, often referred to as intumescent paint, are used in buildings as a passive fire resistance measure. They can be applied to structural members as an aesthetically pleasing fireproofing product. The key feature of intumescents is that they expand significantly when exposed to high temperatures, such as those found in a fire. As the product expands it becomes much less dense, which makes it act as in insulator that keeps the high temperatures away from structural members or protected openings.
pvdf coating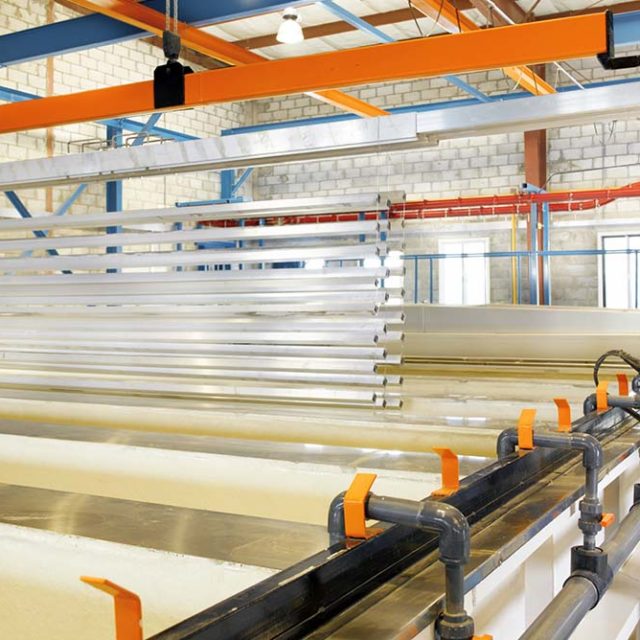 PVDF or polyvinylidene difluoride are resin-based architectural coatings that provide high-performance durable coating systems that withstand the test of weather and time. PVDF is typically a two-coat resin-based liquid coating system which includes applying a primer, which imparts corrosion resistance to the substrate and determines adhesion, quality and applying a topcoat, which determines the color. Alutec  is the approved applicator for Jotun and Valspar products USA. 
powder coating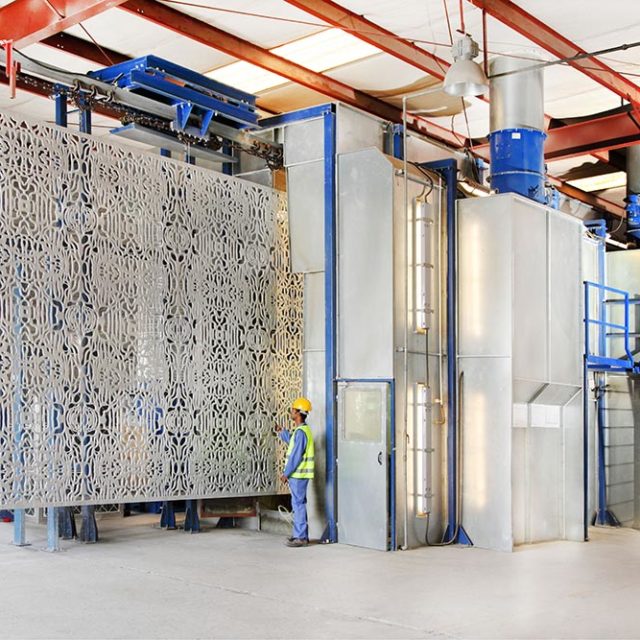 Powder coating is the most widespread method of surface coating and provides an almost limitless choice of colors with excellent repeatability of color matching. Powder coating utilizes an electrostatic process where the Aluminium extrusion component is jigged onto the powder coat track using specialist jigs to hold the components and finely ground dry paint film is applied to the Aluminium surface. The subsequent heating of this film allows the powder to melt and cure to a smooth finish.
anodizing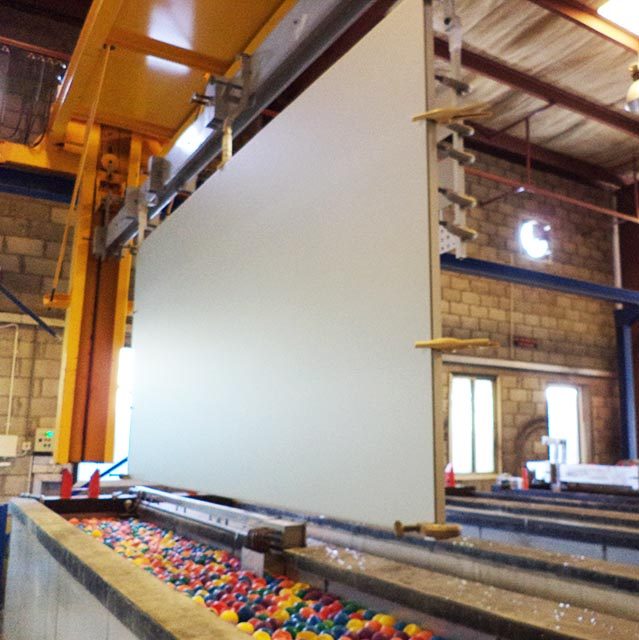 An electro-chemical process where a natural oxide film is created by passing an electric current through a sulphuric acid solution with the aluminium extrusion acting as the anode. The anodised film created can be coloured using pigments, organic or inorganic dyes. The coating layer of anodizing Varies from 5 to 25 microns depending upon the project requirement and adhere to specification AMMA 611/ BS EN ISO 12373. Alutec's Anodizing process is certified by Qualanod.
manufacturing
_____
Alutec's manufacturing facility is built around total quality management, lean manufacturing and kaizen principles ensuring control of quality, accuracy and efficiency. Our processes have been certified by ISO 9001 standards. Our facilities include adjacent design and production areas, contributing to the dynamics of innovation and collaboration. Furthermore, by fostering partnerships with material vendors and product suppliers around the globe, Alutec has been able to maintain complete control over its supply chain, further enhancing our capability to deliver cost effective solutions.
All quality control tests of Alutec are carried out by independent third parties as per the latest international norms, in line with the project specifications. Alutec's manufacturing process goes through rigorous quality control exercises both by human and computerized testing.This along with the time-tested skill and craftsmanship of the Alutec team of operatives has a well defined edge on shaping components with unerring precision and finish.
contracting
_____
Installation services provided by Alutec ensure that the design intent is translated to reality on time and within budget. Project teams are staffed with experienced project manager, project engineers, site managers and foreman / site operations leader. Alutec fosters a collaborative environment to work with project stakeholders to ensure timely and successful project execution.
Health and safety is of paramount importance and project specific method statements and risk assessments are provided to ensure best practice is implemented throughout the company to comply with all current statutory requirements.
trading
_____
Alutec has the most advanced and highest capacity glass processing facilities in Qatar. Our trading operation has the ability to supply the market with all its tempering, lamination and insulated glazing requirements.
Alutec has the capacity to address building material and products needs by direct sales to our clients through our global sourcing network and by channeling our partner ecosystems. Alutec is also the preferred vendor and installer for a wide range of international brands and products that serve the construction industry. Our product range include aluminum sheets, cast aluminium products, elevators and escalators, partitions, handrail systems, sun control devices, fire rated glass systems, automatic doors, roof and skylight systems, hardware and patch fittings, door fittings and accessories, custom metal products, furniture etc.